SONS OF THE PIONEERS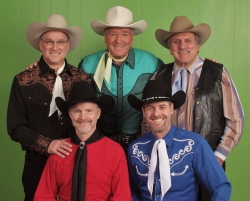 Who are the SONS OF THE PIONEERS and how can they call themselves "legends of western music"? The short answer is that they singularly built a new genre and library of music that is an American original, one that has been synonymous with the American west, and that continues to enthrall legions of listeners worldwide.
SONS OF THE PIONEERS are known as the original "singing cowboy" band. They were instrumental in creating the earliest sounds of western music and are beloved by contemporary western bands. Founded in 1934 by Roy Rogers, Bob Nolan and Time Spencer, the band has remained together continuously since then rotating a total of some 46 members over the many years. Currently the group is fortunate to include Roy's son Dusty Rogers. This legendary ensemble continues to gain fans young and old playing favorites like COOL WATER, CIMARRON, TUMBLING TUMBLEWEEDS, GHOST RIDERS IN THE SKY, HAPPY TRAILS and a corral full of other classic western favorites.
© copyright 2021-2022 Rapid City Concert Association - All Rights Reserved